In this section there are some others useful functions to keep your Library well organized and easy to browse.
Press the Tag icon to activate the tag search panel.
Use the upper Search field to type in one or more Tags, separtated by a space (i.e. "Brick Red").
Use the lower Exclude field to type in one or more Tags you want to exclude from the search.
Press the INFO icon to get all the information about the materials.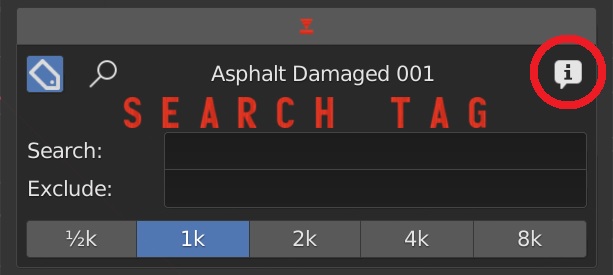 Show Info: click the triangle to show material infos and license details.
Edit Tags: Check this in order to unlock Tags editing.
Copy/Paste: Use theese buttons to copy and paste Tags between one material and another.
X Icon: select a tag. Press X icon to delete (only with "Edit tag" activated).
Add tag: Add your own tags to easily organize and find your favourite materials.
Search Tag (loupe icon): search for tags and find if a name is already in use.