Note: the menu varies according to the chosen library and "Save type"
Default: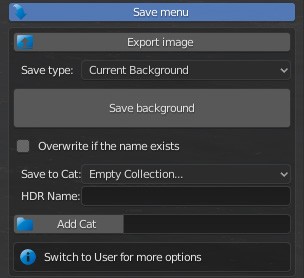 User:
Here is everything you need to know to
Save and Create your 360 backgrounds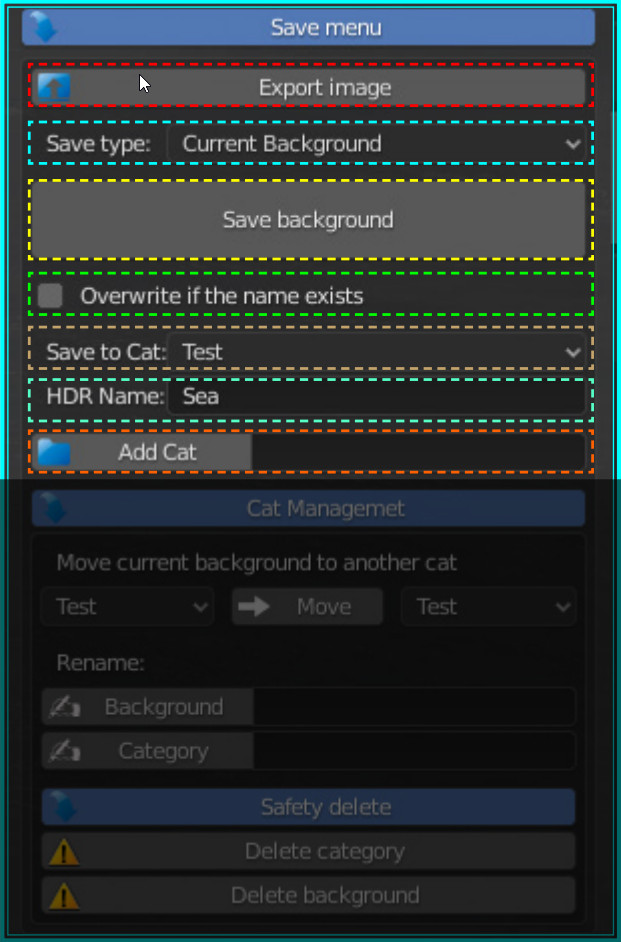 EXPORT IMAGE: If the background currently in use was created with HDRi Maker, and has a background image, this image can be exported. Useful for example if you have lost the image files you used to create a "User" type background
SAVE TYPE: You can choose the type of save you want to make, there are 3 types available:

CURRENT BACKGROUND: Allows you to save the wallpaper currently in use. Useful if you have imported a background on the fly with the "Import" button. See the manual in the section where the interface is explained

PANORAMA 360: You can create a 360 background of your 3D model, for example, the interior of a house, or anything else, this allows you to save an HDR completely derived from a 360 photo (Render) of your model.

BATCH FROM FOLDER: This option is very useful for saving many backgrounds all at once. Then Each background contained in the folder indicated (More on that later will explain better) will be saved in a category at will. (The folder is good practice that only contains files of type HDR or EXR so as not to create confusion when saving
SAVE BACKGROUND: This button will change its name based on the option chosen, but the function will always be the same, ie "Save". So later we will see how.
OVERWRITE IF THE NAME EXIST: If a background is already present in your library, and this box is active, it will be overwrit ten if the names match. If disabled, the names will take on an extension like: MY_Background_001 MY_Background_002. I suggest you leave it inactive, only on necessity if you need to overwrite a background, then activate it.
SAVE TO CAT: If no category has been created yet, an "Empty" message will be displayed. You will need to create a new category, and it will be displayed here. (In this case go ahead and I'll explain how to do it)
HDR NAME: In this box you will need to add the name of the Background you want to save.
ADD CAT AND RELATIVE BOX: Here you can add new categories, just enter the name and press the add button, the category will automatically be available in the list. You can add them whenever you want, at least one category is required to save the background.